This guide steps through the processes of setting up a new login account or using an existing login account when you are sent a connection invitation to join a Safe Ag Systems subscription.
This process is the same for connecting on both the desktop and mobile App
When an account administrator has sent you a connection invitation, you will receive an Access Registration email containing a unique connection code. Click on Register Now. On the desktop, this will direct you to a Safe Ag Systems page on your default browser. On a mobile device, this will open the Safe Ag Systems mobile app or prompt you to download if you haven't already.



If you already have an account with Safe Ag Systems, select Login to use your existing account to connect, otherwise select Sign Up to set up a new user account.




If you selected Login, enter your login details and the new connection will be established with your single sign-on account.
If you selected Sign Up, you will be prompted to set up a new single sign on account. Here you will have the option to set up an account using a unique email address or continue with a Provider Login such as Google, Microsoft or Apple ID.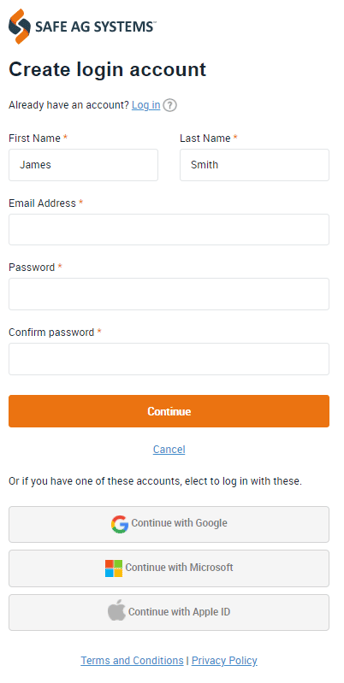 If you use a Provider Login such as Google, Microsoft or Apple ID you will be directed to their page to login and confirm access for Safe Ag Systems.


If you enter a unique email address, you will be sent a verification email. Access this email and select the Verify your email option.



Once your new single sign-on account is created you will then have access to the system you have been invited to connect with. On the Select Subscription page select the newly connected account for access.