Get notified when your workers arrive and leave work safely as well as locate them quickly in an Emergency.
Before you start
You will need to have Mapped a Location. This will mean that if a user is located within the boundaries of one of your mapped locations the location name will be displayed.
You will need to have Added a User
Please note that a users location is updated within the Safe Ag Systems App every time they login and use the app.
On Mobile App Only


Tap the Who's at Work icon located on the bottom menu of the app, for a list of users currently marked At Work.


Underneath the At Work/Not at Work toggle, this will display a list of users currently marked as At Work. This will also display for each user, what mapped location they are currently in and when their location was last updated.





If a user has Location Permissions or Locations turned off for either the Safe Ag Systems App or their entire phone, the display in the Who's at Work screen will show as per below.



To view a users location on a map, tap on the user. The user will be displayed on the map as a green icon while other users will be displayed as white icons.





If you wish to receive an up to date location for a particular user, Supervisors and Business Administrators will have the option to send a notification to a user to get them to open the app, which will then trigger an update to their location.

The User will recieve a notification that their Supervisor or BA has requested location. The user can tap on the notification from the app or the bell notification and it will open to 'I am at Work Screen' and toggle green to show At Work.
If a user's location is more than 30 seconds old a

icon will appear next to the users name at the top of the map. To send a notification tap the

icon and then select
Send Notification
.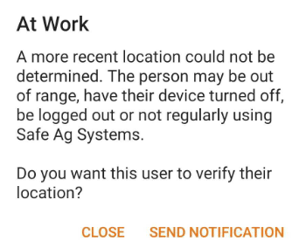 Once the user has opened the Mobile App, their location will be updated.