A User's notifications e.g. the list they can see in the bell icon on Desktop and App are specific to the User. It is important to check that all notification settings are ON for SAS App.
App Notifications
1) Text that is displayed on the App screen or lock screen to alert you to the fact you have a notification
2) Notifications listed in Bell in top right corner of the App
Actions for App Notification via Bell
On the APP a user can view non-archived notifications in the Notification List (bell). Users can see all their 'unread' and 'read' notifications that are less than 30 days old.
1. 3 dot menu for each notification will open the full notification. You can choose to 'Archive' or 'Mark as Read'.
2. Archive will remove the notification and put into Archived section which can only be viewed from the Desktop.
3. Mark As Read will keep the notification in the bell list and be seen as read for up to 30 days.
4. You can choose between 'Show All' and 'Show Unread Only' by tapping the option at the top.
5. By using a long press, it will open the full notification in 'view' mode at the bottom of the screen. You can then 'Archive' or 'Mark as Read'
Desktop Notification - Notifications listed via Bell in top right corner
Actions for Desktop Notification via Bell
On the Desktop a user can view recent notifications in the Notification list (bell) or on the full page list that loads after clicking 'View All Notifications' from the bell.
The Notification list displays the 15 most recent notifications with a 'View All Notifications' feature at the bottom to load 15 more at a time.
1. View notification by clicking on the 3 dot menu to expand and show full details. You can choose to 'Archive' or 'Mark as Read'.
2. Toggle to view your Notifications in the following ways:
i. Show unread only - displays only unread notifications
ii. Archived - displays all archived notifications
3. 3 dot menu will allow you to:
i. Mark all as Read sets all notifications on the desktop to read
ii. Archive All sets all notifications to archived. These can only be retrieved from the archived toggle setting as mentioned above
System Configuration Notifications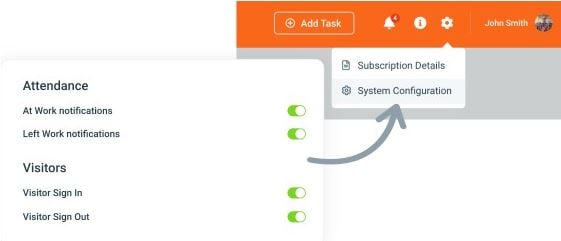 Business Administrators can use the new System Configuration screen to control whether or not they wish At Work/Left Work (Not at Work) and Visitor Sign In/Sign Out notifications to be generated for their company.
Only businesses with the Visitor Log enabled on their subscription will have the option to configure notifications for Visitors. Click to learn more about the Safe Ag Systems Visitor Log Overview
---
What's Next?
How to mark yourself 'At Work' or 'Not at Work'