Policies are your farm rules. In this step you will build the critical policies that relate to your business.
---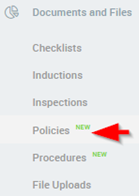 Navigate to DOCUMENTS AND FILES > Policies in the left hand menu
Create Policies
If you already have Policies you can replicate them using the 'Build New' button on the right hand side
To build policies, drag elements from the right elements list
If you have none, use the Template Library tab at the top
Click on the 3 dots on the RHS and select 'Use Template' and 'Customise' – this will save the Policy to the 'Drafts' tab
Edit the Policy
When you are happy with the contents, 'Publish'
Policies and Procedures require a signature to 'Publish' them – create a digital image of your signature by signing a blank piece of paper and scan or photograph then save to your desktop and click 'Upload Image'
The following article provides step by step instructions on how to create a policy
Managing your Policies

Policies are the overarching rules of your farm
Consider your farming operation and identify the important rules for your day-to-day activities
Edit the policies to suit your business
Start with a Work Health and Safety Policy and then add policies which you identify as important to your operation
Remember – more is not always better!
What's Next?
Implementation - Step 10 - Inductions
Or return to the 10 steps overview and choose your own next step: