Handling of chemicals for farm safety
Chemicals are an integral part of farming operations, they can assist with production of high-yielding crops and pasture as well as livestock.
Common chemicals you will come across in the agricultural industry include:
insecticides
herbicides
fuels
cleaners
And exposure can come in the form of:
liquids
powders
gases
vapours
Safety around chemical handling can be maintained by ensuring proper storage, transportation, usage, and disposal.
Hazardous chemicals are defined as substances or mixtures that can lead to a health or physicochemical hazard in the workplace. Health hazards can differ from chemical to chemical however common risks when handling chemicals include skin exposure and irritation as well as airborne emissions of carcinogens and respiratory sensitisers.
How do you identify a hazardous chemical in the workplace?
you should start by checking the label and the Safety Data Sheet (SDS). At least once every five years a manufacturer or supplier is required to review their SDS. For guidance on what information should be included in an SDS and on labels you should check your States' Hazardous Chemicals Code of Practice. For example, South Australia's Labelling Hazardous Code of Practice requires chemical labels to be the appropriate size when attached to the outside of the storage container. The label must be written in English and allow the user to clearly identify the chemical, including information on the hazards it presents and details on safe storage, handling, use and disposal.
A PCBU is responsible for eliminating or managing the risks associated with hazardous chemicals. In the first instance removing the hazards should be the focus. When it is not reasonably practicable, the PCBU should look to reduce risks by either substituting the chemical, isolating the use or implementing controls.

Suggestions for the safe storage, usage and handling of chemicals used in agriculture include:
Keep chemicals in their original containers and do not pour into smaller bottles.
Ensure bottles, containers, etc. are all labelled correctly with warning placards and safety signs.
Store chemicals in a locked, well-ventilated shed with floors that will contain spills.
Do not store chemicals with personal protective equipment (PPE) when not in use.
PPE such as boots, face masks, gloves, goggles, etc. should be provided to enhance higher-level control measures.
Always follow the manufacturer's instructions for proper storage and usage including quantities.
Maintain a hazardous chemical register and manifest also keep note of when and where they are used on your property.
In your hazardous chemical register, retain a copy of the current SDS from the manufacturer or supplier.
Ensure anyone using chemicals is suitably trained.
Provide a spill containment system where necessary – mop-up materials including a granular absorbent such as Drysorb or even a bag of kitty litter.
Make certain you do not exceed workplace exposure standards for hazardous chemicals.
Follow the manufacturer's instructions for proper disposal of the chemicals as well as the equipment used for applications.
Triple rinse empty containers and puncture the container to prevent repurposing.
Contact your local council about proper disposal methods for empty containers.
Have you explored the option of a contamination shower? It's easier than you think. You can purchase a contamination shower online or search your local area for suppliers.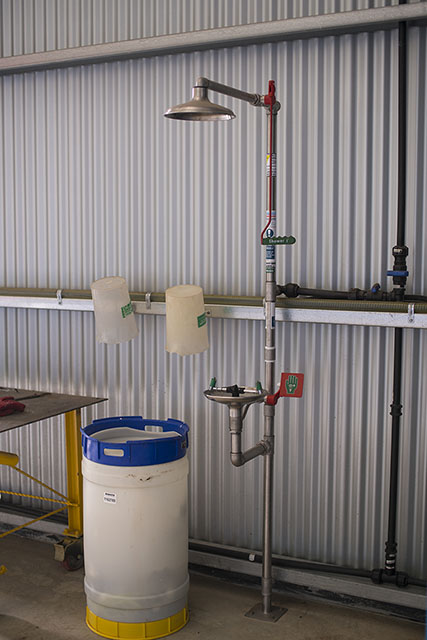 Exposure standards
Regarding hazardous chemical usage in Australia, the Workplace Exposure Standards lists approximately 700 chemicals. It is the PCBU's responsibility to ensure workers are not subjected to airborne contaminants that are above the workplace exposure standard. SafeWork Australia has published the Workplace Exposure Standards. SafeWork Australia has noted this list does not represent acceptable exposure levels for workers, but rather the maximum upper limit prescribed by legislation.
Did you know that under the model WHS regulations you may be required to monitor airborne contaminants? Worker exposure to airborne contaminants should be monitored if there is uncertainty if the exposure standard was exceeded or if there is a risk to health.
What if it goes wrong? Do you have an emergency plan?
Your workplace should be prepared with an effective farm emergency plan created by your PCBU. Your emergency plans purpose should be to minimize a dangerous occurrence or near miss caused by handling or storing hazardous chemicals. Your emergency management plan must include a list of emergency services and contact details.
If the PCBU is provided recommendations from emergency services for your plan, your plan should be revised. Make sure everyone knows where they can access your emergency management plan as well as find your contamination shower.
What is chemical accreditation?
Chemical accreditation provides training for individuals and businesses working with chemicals in order to ensure their safe transport, storage and application and can be done online with several registered training organisations.
The traditional farmer has always been known for keeping all of their useful records in their head. There are farmers across the country who can recall the last time the season was this good, this dry or this late down to the year.
But in this modern day, farming is also a business and businesses need accurate record keeping systems to do everything from borrow money, plan budgets and identify strengths and weaknesses in the business. Keeping accurate chemical records is a legal requirement.

Record keeping for hazardous chemicals.
Do you know that you are required by law to record the use of agricultural and veterinary chemical products? Therefore, a register for hazardous chemicals in your workplace must be prepared and maintained. Your register must be easily accessible for workers that handle hazardous chemicals as well as anyone exposed to hazardous chemicals in your workplace. Your records must be updated within 48 hours of chemical use for agriculture and should cover:
Trade name of product
Date of use
Information to calculate application rate
Commodity that was treated or why the product was applied
Location of product use
Wind speed and direction at the time and location that chemical was used
Name and contact details of the applicator and supervisor
These records must be kept for 2 years from the date of use.
A chemical register not only assists your work health and safety management, but it can also save your agribusiness money by managing records for product usage, you can track its application as well as effectiveness and adjust your practices as required.
You will find it is easier to access and maintain your farm chemical records with the use of a digital system. Allowing you access to your inventory records anytime, anywhere, Safe Ag Systems™ makes the process simple to ensure your meet your legal responsibilities. Through keeping a digital chemical manifest with Safe Ag Systems™, you can keep track of your stock levels, chemical usage, attach notes and link the Safety Data Sheets in case of an emergency.
Looking for further information on chemical usage for your state?
Chemical Usage Information – SafeWork NSW
Chemical Usage Information – SafeWork SA
Chemical Usage Information – WorkSafe Victoria
Chemical Usage Information – WorkSafe QLD
Chemical Usage Information – NT WorkSafe
Chemical Usage Information – WorkSafe Tasmania
Chemical Usage Information – Government of Western Australia
Are you viewing this page from the UK? Check out our guide to COSHH.
Disclaimer: Content on this website may be of relevance to users outside of Australia, but content links and examples are specific to Australia. Please check with your local authority for your country and industry requirements.
Originally published 04 February, 2021.