What are the most talked about hazards on your farm?
Workplace hazards vary widely across the sectors of the agricultural industry, for example, a dairy worker will face different daily challenges to a grain grower. However, the safety messages remain the same when it comes to hazards on a farm. Maintaining a healthy and safe workplace is centred on prevention, awareness and constructive solutions.
Dairy
Figures show between 2014 and 2018, there were 11 fatalities in dairies of which most resulted from vehicle incidents (42% in 2018). The main causes of serious injury are being hit by an animal (22%); falls on the same level (13%); and vehicle incidents (10%).
The dairy industry's safety challenges come from:
animal handling

machinery and equipment use

working in confined spaces

slips, trips and falls, and

noise exposure.
A few solutions include animal handling training which leads to improved understanding of cow behaviours, wearing the correct personal protective equipment (PPE) including non-slip waterproof boots, and appropriate machinery maintenance, guarding in place and ensuring all operators are licensed or trained where appropriate. Read about the top 5 hazards in dairy.
Viticulture
Across the grape growing and wine manufacturing industries, injuries to workers from fatigue and poor manual handling techniques are the core areas for concern.
Common causes of injury experienced by workers in vineyards and wineries include:
operating equipment on hillsides and uneven terrain

pushing and lifting heavy bins, tubs, barrels, pumps, hoses, and mixers

using pruning shears and picking knives

working with hazardous chemicals

entering confined spaces

insect bites

working at night
Some solutions include appropriate training and licensing for machinery operators, particularly seasonal workers, reducing slip, trip and fall hazards through good hygiene practices, and ensuring workers have access to the correct personal protective equipment to prevent weather and noise exposure.
Horticulture
Horticulture is an industry reliant on manual activities including harvesting and packaging of fruit and vegetables. Manual handling injuries can result either from gradual wear and tear over time or sudden damage and the focus should be on minimising the risk.
Some common risk factors for manual tasks include:
handling heavy or bulky loads

twisting the back, neck and upper body

reaching and load handling at low levels and above shoulder height

load handling on one side of the body

sustained and repetitive gripping

repetitive movements

lifting, lowering, carrying, pushing or pulling

working under time pressures

working in hot, humid or cold environments

inadequate task variety or work breaks.
Consider modifying tools and equipment or using mechanical aids such as pallet jacks, trolleys and height adjustable work benches, changing working hours to allow for hard work to be undertaken during the cooler times of the day, and modifying loads by size or weight or container to lessen manual handling stressors.
Grain Growing
Key hazards for grain growers centre on plant and machinery, confined spaces, chemicals, fatigue and falls. Fatigue is a safety risk that is commonly underestimated, but cause of incident figures show it to be a key factor, especially during certain times of the season. Falling asleep is a real risk when working longer hours at those critical times such as seeding or harvesting.
Some solutions include planning adequate rest breaks, wearing correct personal protective equipment and weather appropriate clothing, installing guards on machinery and having up-to-date maintenance plans in place and ensuring elevated work areas have guard railings or other forms of fall prevention in place.
Solutions for plant and machinery include ensuring proper guards are in place especially for things like augers and PTOs. Confined spaces, working at heights and chemical use have short courses to train workers how to manage these safely.
Livestock and Shearing
Workers in livestock industries need a basic understanding of animal behaviour and livestock control procedures. Hazards in this industry that can be controlled include equipment maintenance, animal movement procedures and manual handling.
Try including regular stockyard maintenance for gates, ramps and loading equipment, separation and access procedures for people and livestock, plant and equipment maintenance, and good housekeeping practices in terms of maintaining effluent drainage and clearing grates to reduce risk of trips and falls. Gentle handling of livestock will reduce the risk of harm to workers and the animals, for example allowing sheep to settle for at least half an hour before shearing should reduce the risk of injury to the shearer as the animal will be calmer. Learn more about the top 5 hazards in shearing.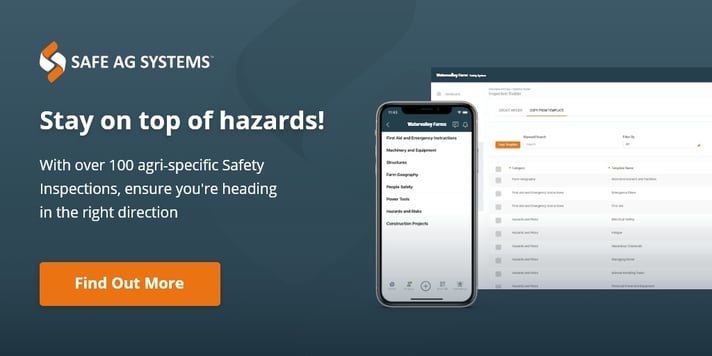 Disclaimer: Content on this website may be of relevance to users outside of Australia, but content links and examples are specific to Australia. Please check with your local authority for your country and industry requirements.
Originally published 30 January, 2020.