Machinery maintenance – are your records easy to access?
Machinery is easily the most dangerous element on your farm. Your machinery maintenance should be a year-round process that is kept up to date in order to assist with your workplace health and safety.
According to an article by Safe Work Australia, over a period of five years from 2015 to 2019, vehicle collisions resulted in 47 fatalities or 27% or of all agricultural incidents which caused fatalities. Another 14 incidents or 8% of fatalities were caused by being trapped by moving machinery. The most common vehicles involved were tractors (23%, 40 fatalities) & quad bikes (14%, 25 fatalities).
In the United Kingdom, Great Britain particularly, the HSE has recorded that 10% of non-fatal injuries to workers between 2016/17 - 2018/19 were caused by contact with machinery.
Understanding and managing the risks that come with using agricultural machinery, such as grain augers, is essential to a safe operating environment. There are regular risk management practices you can put into place, alongside seasonal checks at various times of the year.
How to identify hazards
A good place to start to identify on-farm hazards is to ask yourself a few questions about the plant and equipment that you use and identifying the risks you can see. Talk to the workers who regularly use the equipment as often they have a good idea about the hazards. Utilised any safety checklists to check for defects on machinery and equipment as well as guards and other safety devices are in working order.
Maintenance records
It is also essential to keep a record of all servicing or maintenance. Remember it is a legal requirement for you to retain your machinery service records. It's very easy to keep your records up to date using Safe Ag Systems™ also giving you access to this information, including vehicle maintenance, anywhere, anytime.
Safe Ag Systems™ will allow you to attach a scan-able code to any inventory item which will present your worker with a Safe Work Procedure.
In addition to being part of your legal obligation and promoting safe work practices, machinery maintenance records provide your agribusiness with some key benefits. It helps prevent the need for extensive repairs, assists with warranty claims, maintains accountability of workers utilising the machinery as well as preserving resale value.
Moving Machinery
Another factor to consider is the safety of machinery when you're moving between properties. Ensure you comply with the relevant Codes of Practice and operate at a safe speed, with securely hitched equipment. Properly comply with permit requirements.
Have you planned how you will keep people safe around moving machinery and vehicles on your farm? Our traffic management blog guides you through a step by step process regarding mapping traffic management zones, signage, visibility and more.
Is your equipment ready for harvest?
You should ensure your equipment is kept in a safe, working order at all times, but especially during harvest, your busiest time of year. Have you assessed your current inventory & have you prepared a checklist?
Have you considered?
Safety inspections: Are tractors fitted with an approved roll over protection structure?

Does any preventative maintenance need to be scheduled: Are vehicle tyres worn or damaged?

Has equipment been tested: There are no steering defects? All chains & slings used for lifting have been checked?

Has equipment been cleaned: Are battery terminals and terminal leads clean & secure?
Topics: Machinery Maintenance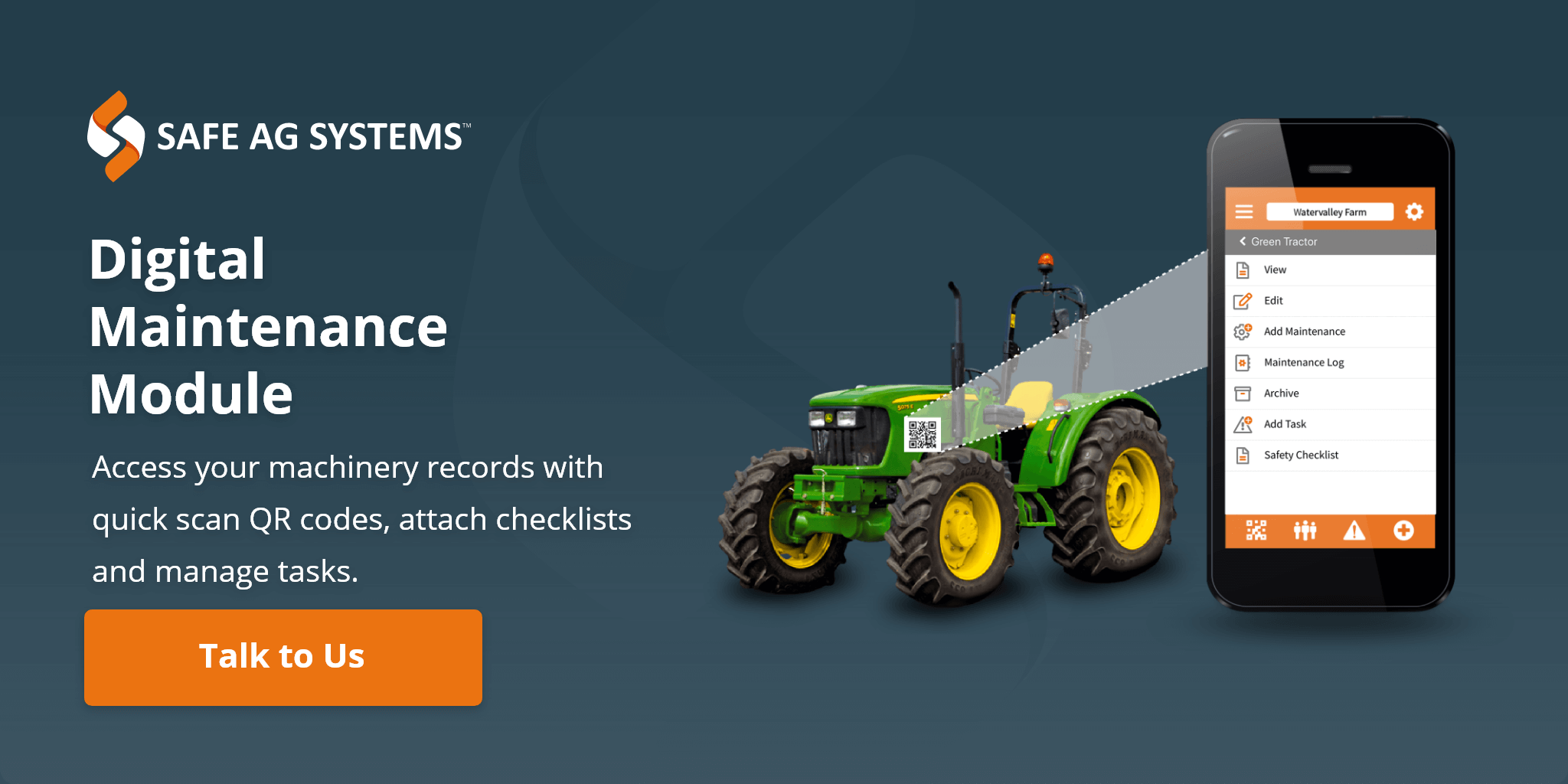 Disclaimer: Content on this website may be of relevance to users outside of Australia, but content links and examples are specific to Australia. Please check with your local authority for your country and industry requirements.
Originally published 02 September, 2020.