SAFETY ADVISOR, FEATURED ARTICLE
When should a notifiable incident be reported?
Like many farmers and PCBUs around Australia, you may be a little lost when trying to figure out what is classified as a notifiable incident at work. Hopefully this article will help you determine when it's time to notify your regulators. It's important to know what a notifiable incident is under the Work Health and Safety Act 2011 (WHS Act), when it is deemed 'work related' and who is responsible for making a report since failing to a report a notifiable incident can be an offence and result in heavy penalties.
What is work related?
The WHS Act 2011 defines a Workplace as "a place where work is carried out for a business or undertaking and includes any place where a worker goes, or is likely to be, while at work."
If an incident occurs while someone is at work it is clearly work related but determining if an incident is work related can sometimes be complex as the farm is often the home as well as the workplace.
Generally if the cause of the incident is business related activities or business owned and registered infrastructure or machinery it would be defined as work related even if the incident took place in a social context. Examples of such incidents may include quad bike or motorbike accidents where these machines are registered under the business and used for business purposes.
Visitors undertaking work related activities who are involved in an incident are also work related. For example, if a friend was visiting on the weekend and was involved in a notifiable incident while assisting with moving or yarding livestock this would be defined as a work related incident.
For this reason, it is strongly recommended that business machinery, infrastructure and activities should not be used or undertaken by social visitors to the farm unless proper training and inductions are provided prior.
What is a notifiable incident?
A notifiable incident is defined as:
The death of a person
A serious injury or illness, or
A dangerous incident
No matter if the person involved is an owner, employee/worker, contractor, visitor or member of the public, a notifiable incident occurs due to conduct or undertakings at your workplace. According to the WHS Act 2011, there is no further explanation for the death of person, however, section 36 and 37 gives us more details regarding serious injury or illness and examples of a dangerous incident.
Penalties for non-compliance
Most Australian states and territories adhere to the Work Health and Safety Act 2011 as well as the Work Health and Safety Regulations 2011. Under this health and safety legislation you are obliged to report any serious injury or illness, death or dangerous incident (also labelled a notifiable near miss). There are three categories in which a PCBU, individual or body corporate can commit an offence:
Category 1: Reckless Conduct
$300,000 - $3,000,000, or 5-years imprisonment or both.
Category 2: Failure to comply with health and safety duty
$150,000 - $1,500,000
Category 3: Failure to comply with health and safety duty
$50,000 - $500,000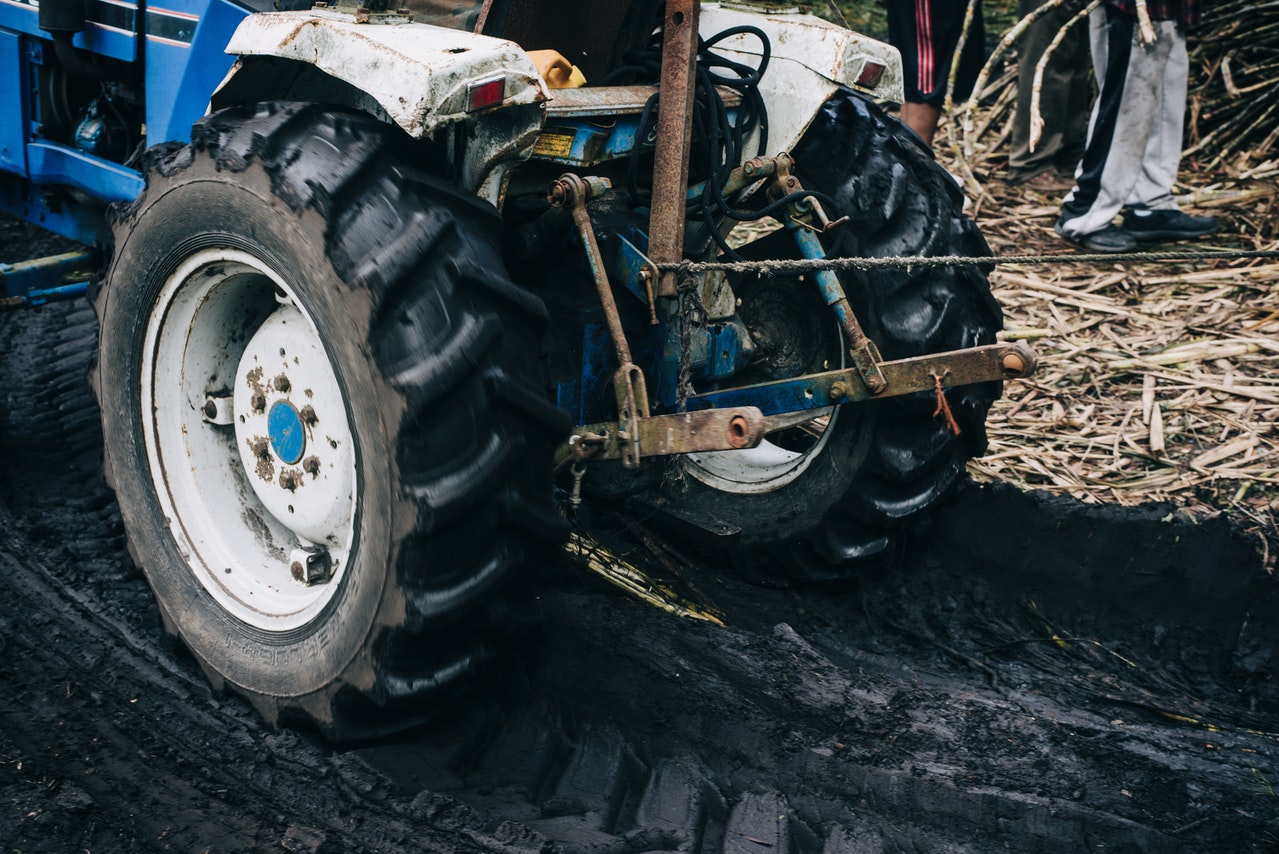 Serious injury or illness
Notifiable incidents must be work-related with only the more serious health or safety incidents being classified as notifiable, but how should you determine if it is a serious injury or illness? According to section 36 of the WHS Act 2011, a serious injury or illness of a person is an injury or illness requiring the person to have certain types of treatment.
Types of treatment
Immediate treatment as an in-patient at a hospital. This does not include out-patient treatment or corrective surgery that does not immediately follow the injury.
Immediate treatment for the amputation of any part of the body.
Immediate treatment for a serious head injury. This does not include a bump to the head resulting in a minor contusion or headache.
Immediate treatment for a serious eye injury. This does not include eye exposure to a substance that merely causes irritation.
Immediate treatment for a serious burn. This does not include a burn that merely requires washing the wound and applying a dressing.
Immediate treatment for the separation of skin from an underlying tissue (such as degloving or scalping). This does not include minor lacerations.
Immediate treatment for a spinal injury. This does not include acute back strain.
Immediate treatment for the loss of a bodily function. This does not include mere fainting, a sprain or strain.
Immediate treatment for serious lacerations.
Medical treatment within 48 hours of exposure to a substance. This does not include first aid administered by a first aid officer.
For more information about types of treatments and examples head to Safe Work Australia: Incident Notification Information Sheet.
Important to note; To identify a notifiable incident, it does not matter whether the individual receives these types of treatment for their injury or illness, but more importantly if the injury or illness would warrant such treatment. If immediate treatment is not available due to a rural or remote location, you are still legally required to lodge a notification.
In addition to the above incidents defined by treatments, the WHS Act 2011 recognize the following serious illnesses that require notification.
An infection where work carried out was a contributing factor.
Providing treatment or care of a person
That involves contact with human blood or body substances
That involves handling or contact with animals, animal hides, skins, wool or hair, animal carcasses or animal waste products
The following occupational zoonoses contracted in the course of work involving handling or contact with animals, animal hides, skins, wool or hair, animal carcasses or animal waste products:
Q fever
Anthrax
Leptospirosis
Brucellosis
Hendra Virus
Avian Influenza
Psittacosis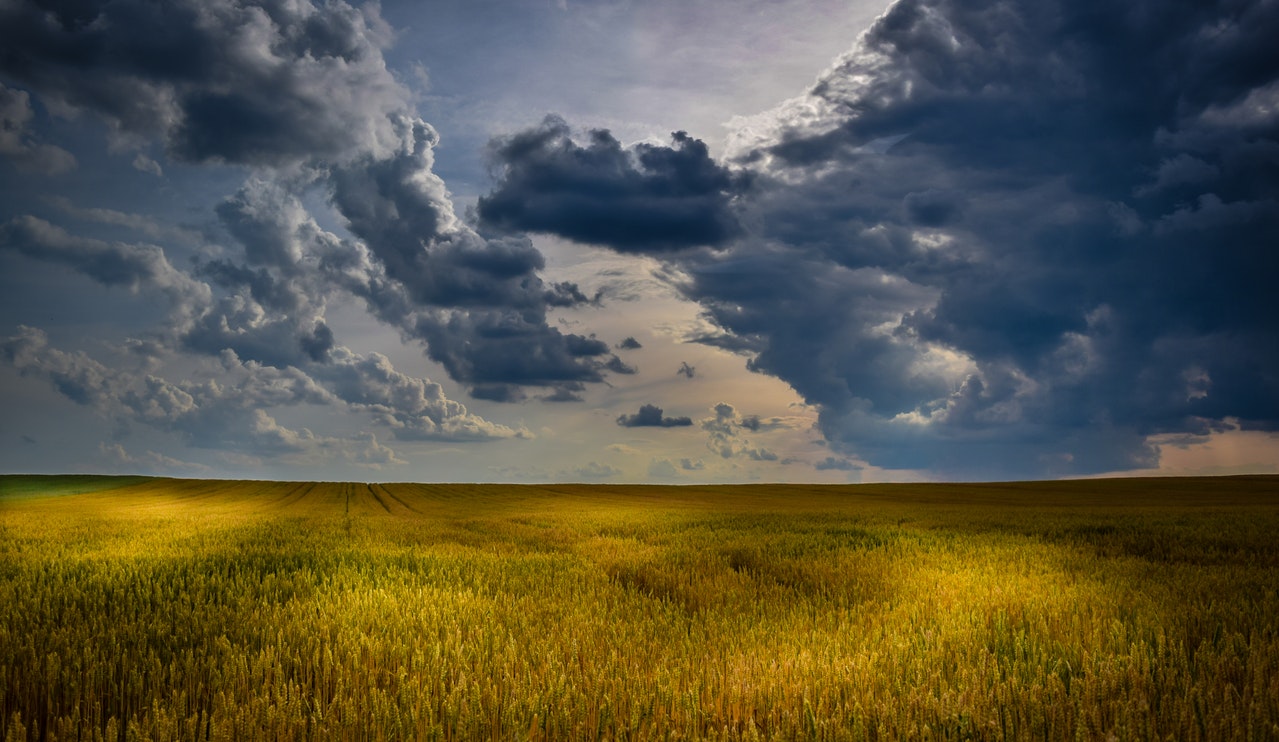 Dangerous incidents including 'near misses'
A dangerous incident, or notifiable near miss, is defined under section 37 of the WHS Act 2011 as an incident within a workplace that exposes an employee/worker, or any other person, to a serious risk to the individual's health or safety originating from an immediate or imminent exposure.
An uncontrolled escape, spillage, or leakage of a substance
An uncontrolled implosion, explosion, or fire
An uncontrolled escape of gas or steam
An uncontrolled escape of a pressurised substance
Electric shock
The fall or release from a height of any plant, substance, or thing
The collapse, overturning, failure, or malfunction of, or damage to, any plant that is required to be design or item registered under the Work Health and Safety Regulations, for example a collapsing crane
The collapse or partial collapse of a structure
The collapse or failure of an excavation or of any shoring supporting an excavation
The inrush of water, mud, or gas in workings, in an underground excavation or tunnel, or
The interruption of the main system of ventilation in an underground excavation or tunnel
It is important to note that any of the above incidents must be reported even when an injury does not occur. If the potential was there for an injury to occur, then these incidents or near misses must be reported. Some examples of such incidents could include large, heavy items falling from a truck during loading or unloading or a significant chemical spill.
Who is responsible for reporting a notifiable incident?
Under the WHS Act 2011, section 38, a person who conducts a business or undertaking (PCBU) must ensure that the regulator is notified immediately after becoming aware that a notifiable incident arising out of the conduct of the business or undertaking has occurred. There are penalties for failing to notify the regulator: $10,000 for an individual and $50,000 for a body corporate.
When it comes to notifying your state or territory regulator, you have a choice of providing notice via either telephone or in writing (facsimile, email, or other electronic means), whichever is the fastest. If you choose to provide notification via telephone you may be required to also provide written notice of the incident within 48 hours. Either way, your regulator is required to provide you with an acknowledgement of receiving the notice.
Notification provided in writing must be in a form, containing the details requested by your regulator. This includes a clear description of the incident, providing as much detail as possible, keep in mind if the incident has just occurred you only need to provide information available to you at the time. Regulators may accept fields marked as "unknown", but you will be expected to provide that information when possible. Supplying as much information of the incident in the first instance, may help your regulator determine if the incident was notifiable and if they require further information. Did you know you are legally required to keep a record of each notifiable incident for at least 5 years?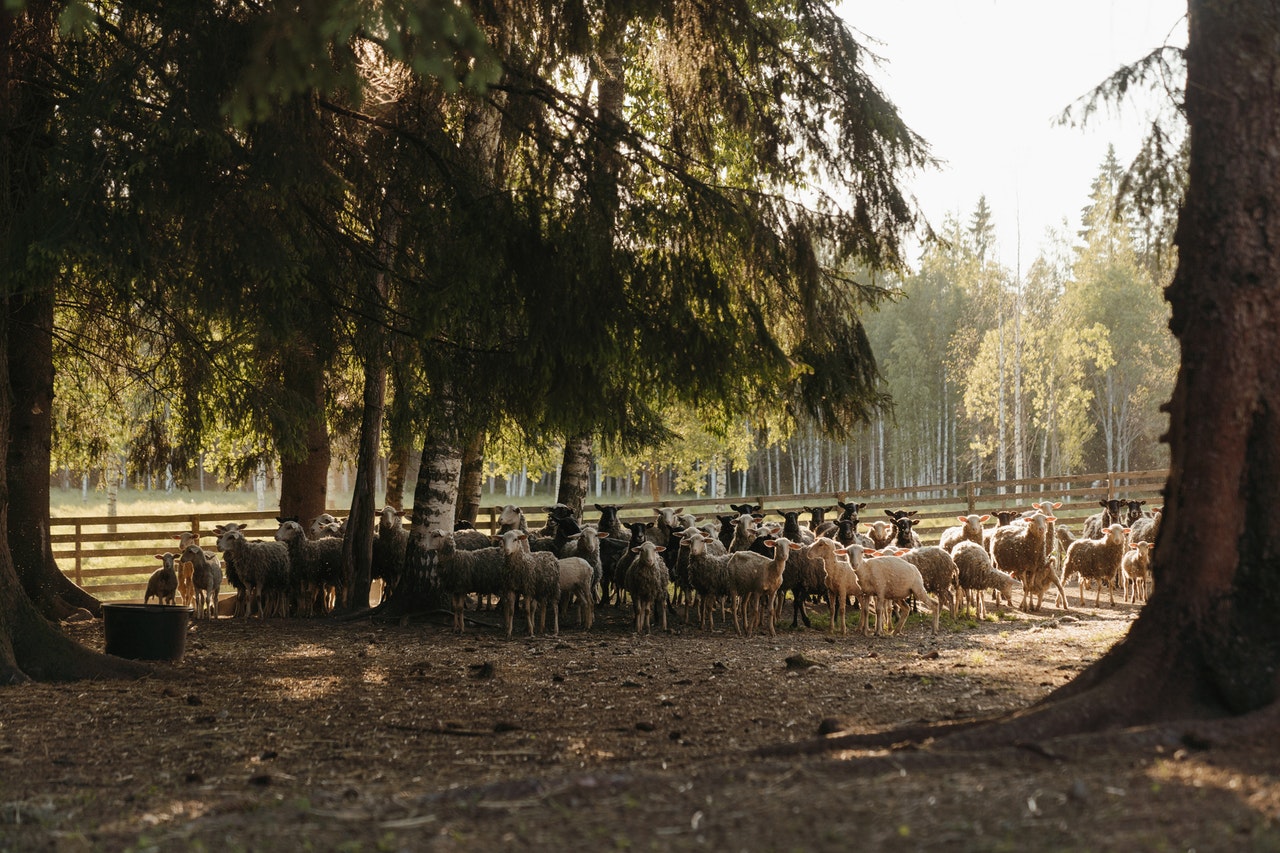 How does the regulator determine when a PCBU has been made aware of a notifiable incident?
A PCBU is considered "aware" when a worker has notified their supervisor or manager of an incident. This statement signifies the importance of internal communication systems that capture the essential information so that a PCBU is rapidly alerted to any incidents. It is up to the PCBU to ensure that all workers, including supervisors and managers, are trained and made aware of their requirement to report incidents. These internal processes can be supported with procedures and near miss reporting.
Importance of near miss reporting
Utilising near miss reporting supports you to safeguard your agribusiness against similar incidents and injuries. When treated as a proactive approach to safety in the workplace, near miss reporting helps you to detect issues and resolve them, mitigating future risks. Near miss and incident reporting not only keeps your workers safe, but it can also save your agribusiness money through reducing costs associated with time lost, investigation or replacement of machinery and equipment.
Utilise Safe Ag Systems near miss and incident reporting feature to help drive continuous improvement on your farm. With intuitive, digital reporting your workers can capture the correct information to make an investigation easier. The reporting feature takes you through step by step identifying essential information, the severity, and injuries, allowing you to record evidence and images.
Still unsure? If you are still unsure when it comes to reporting a certain incident, contact your regulator for further guidance. Head to our follow up blog to learn more about what to expect during an investigation.
Topics: Safety Management System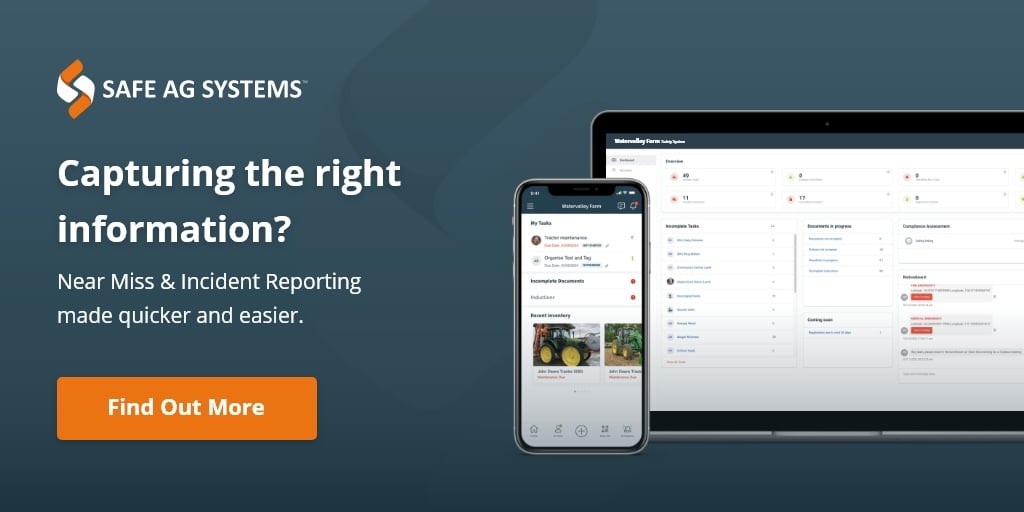 Disclaimer: Content on this website may be of relevance to users outside of Australia, but content links and examples are specific to Australia. Please check with your local authority for your country and industry requirements.
Originally published 31 May, 2022.