How do Safety Inspections improve your processes?
Health and safety is so much more than just a set of documents that sit in a folder or stored in an app. It's about how we operate day in, day out. The expectations of a business about how to get the job done and stay safe. That's where your safety management software can help, but how do you know you're heading in the right direction?
Once you're up and running with your safety system, you need to keep checking that what you've implemented is working as intended and be prepared to make changes. Not everything will go to plan, and that's OK.
What is a health and safety inspection?
A tool to help you prevent risks, a safety inspection is generally a walk through performed on-site. As part of your hazard identification tool kit, the purpose of a safety inspection is to provide you with the ability to identify, and report on, potential hazards and dangers in your workplace that can be removed or avoided. Either a health and safety representative or a work health and safety specialist can perform these inspections.
What should you examine during a workplace inspection?
When workplace health and safety inspections take place, the inspector should be observing safe work procedures, workplace elements and worker behaviour to compare against acceptable safety standards. This process should also include consulting with workers to understand their concerns.
Every inspection should assess who, what, where, when and how, paying particular attention to workplace elements (people, environmental, equipment) that could develop and become unsafe or promote unhealthy conditions. Look for wear, impact, vibration, heat, corrosion, stress, and misuse. Some examples include inadequate guards on machinery and equipment, poorly lit workspaces, repetitive movement, noise or temperature.
Utilising a template, a safety inspection commonly follows a checklist format that assists your worker to identify areas of concern. Safety inspections are a documented, formal process for safety and compliance that covers an array of areas including, but not limited to, machinery and equipment, structures, power tools, people safety, and electrical safety.
How do Safety Inspections improve your processes?
Since the main purpose of a safety inspection is to prevent injuries, illness, or incidents, performing a thorough examination of your farm allows you to implement corrective actions. Safety inspections allow you, and your workers to understand the jobs and tasks being performed then address any concerns. Ultimately, all of these activities assist in improving your health and safety performance as well as reducing the risk of damaged assets and lost revenue.
Inspections are a proactive approach to farm safety, identifying underlying problems before they turn into real issues. Identifying a hazard is the first step, but safety inspections should also drive your team to find the cause of the hazard, determining the circumstance to prevent reoccurrence. Once you have implemented control measures, these should be monitored and reviewed for effectiveness.
It is important to know that safety inspections should be performed on a regular basis but are essential when an incident or hazard has been reported and when introducing new process, procedures or machinery and equipment. You've implemented a safety management system; you want to ensure your workings are completing the procedures set in place.
Start with awareness.
Give your workers access to relevant safety documents, whether it's pinning a copy of your policies to a noticeboard or providing access to them via an app or online system.
You might attach Safe Work Procedures to equipment and machinery to be read before use. Or perhaps set some inspections for workers to do.
Whatever it is, tell them what you've got in place, so they know. If it's something more detailed, maybe talk them through it at a toolbox meeting. Provide training if needed.
You might be implementing a process that is quite different or new, so train your people and support them as they get up to speed.
You don't have to do this all at once. As things are developed, implement them as you go. Then you and your workforce are not overwhelmed, and safety becomes just part of the way you do things.
See where things can be improved and make any adjustments as needed. Monitor how things are going by observing and talking to workers.
Review hazard and incident reports regularly to see if there's any trends showing and put things in place to address them. You can even do some audits to see how things are going.
Audits can be as simple as observing people or asking them how they follow a certain policy procedure, through to getting a qualified auditor in to really test how well things are working.
Remember, a health and safety audits are not a bad thing! Whoever maintains your machinery would likely plug in and do some diagnostics. Audits are a way to do this for your safety system.
These are a great way to see where your system is not working as planned or is vulnerable so you can do something about it before it causes any damage.
After all, prevention is the key to a safe and productive workplace.
Things to consider after your inspection.
How will your corrective actions be tracked, managed, and completed?
Who will be responsible for ensuring findings are actioned in a timely manner?
How will you document your communication and consultation?
The simple answer is to go digital. With Safe Ag Systems workers can easily complete safety inspections using the mobile app, giving them a tool in their hand to help identify potential hazards. Once completed safety inspection reports can then be accessed through both the desktop and the mobile App. Assign tasks and utilise real-time data stored in your safety management software.
Topics: Safety Management System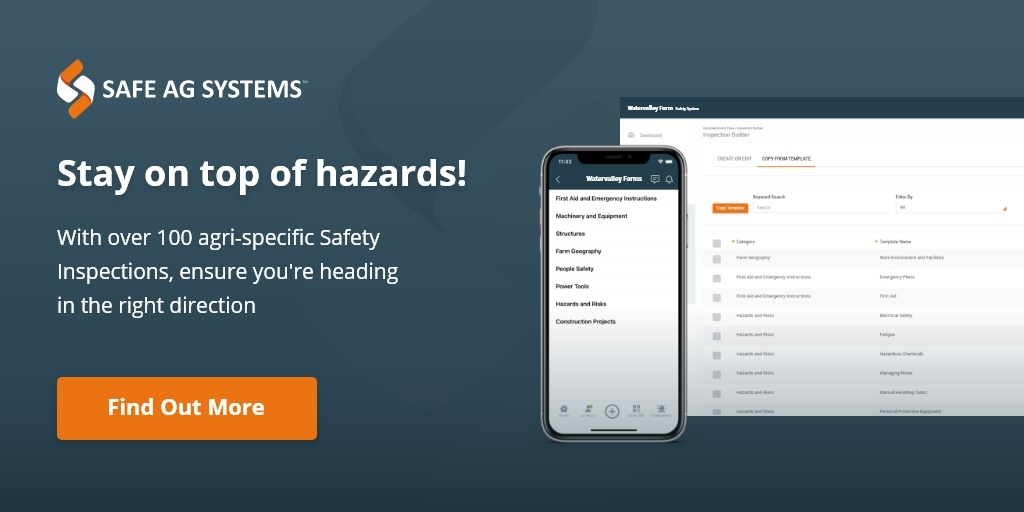 Disclaimer: Content on this website may be of relevance to users outside of UK, but content links and examples are specific to UK. Please check with your local authority for your country and industry requirements.
Originally published 23 February, 2022.