How to hire the right people for your agribusiness
Bringing new people into your business can feel overwhelming. How do you choose the right person? Not just for the role but also for your business. If yours is a family business, this may be the first time you are hiring anyone from outside your family, so you might ask yourself how you ensure you are hiring the right person.
Finding someone that can do the job is only one part, there are many other aspects to consider when hiring someone new for your business.
So where do you start?
Here are some principles that you can follow when recruiting and selecting new team members for your business.
First, you need to ask yourself a few questions to properly establish the role you are wanting to fill.
1. What jobs do you need to have done?
If you are looking to hire, you probably have a good idea why you are hiring but take the time to consider other work around the farm that perhaps has not been done as you haven't had the resources. Compiling a comprehensive list of all the work needed, not just what's currently in front of you, will make it easier to identify the role.

2. What skills/experience/tickets are required for the jobs?
Is this a role that requires someone to know what to do straight away or are you willing to provide them with on-farm training?
3. How many people do you need to do the work?
Is this a job that can be done by one person (tractor driver) or is this a job that will require more people such as seeding/planting or harvesting?
4. Is it a seasonal or long-term role?
Is this a harvest job that will only be required for a certain period or is this a role that will continue year-round?

5. What is the budget you have available to spend on the wage/salary?
How much can you afford to spend on this role's wage, making sure you are meeting Fair Wok's minimum requirements https://www.fairwork.gov.au/pay-and-wages



Finding the right fit
Now you know what you are looking for, how do you start the search to find the right person for your business? It is important that you are aware of your rights and responsibilities according to Fair Work https://www.fairwork.gov.au/starting-employment/hiring-employees
Once you understand the requirements for hiring a new employee, you are ready to draft the position description and job advert: The position description consists of:
Summary of the broad purpose of the position in relation to organisation goals
Any reporting/working relations the new employee will have
Any special conditions of the role e.g. workplace location, will they work across multiple farm sites
Statement of key outcomes and associated activities
Educational/vocational qualifications required
Personal abilities/aptitudes/skills required
Require experience/knowledge
The job ad is a summary of the position description which generally includes the following:
A bit about your company and the role you are looking to fill
What the role offers (fulltime/parttime, location, culture)
Responsibilities of the role
What you are looking for in a new employee (personal skills/attributes)
Any experience and qualifications required for the role
Where to find the right person for the job?
Now it's time to get your job ad out there. Seek is a great platform to use as well as LinkedIn and local community pages (Facebook). You can also reach out to a recruitment agency if you would like some specialised assistance in finding the right person, check out Agri Labour Australia https://www.agrilabour.com.au/
As the applications start coming in you will need to read over each one and start shortlisting which ones you would like to know more about. When you speak to or meet your shortlisted candidates keep in mind your company and cultural values as well as job-specific skills and experience that will be beneficial.
It might be helpful to consider any existing relationships you already have with people whom you might be hiring. If you are considering a friend or family member for a role, then it is important to think about how a working relationship might impact a personal relationship. While you might have a good idea of their current skills and experience and have a high level of trust already you should make sure that they are adequately skilled for the job and will be respectful of your position as their manager. Working with someone you already know can be an opportunity to bring even more value to your friendship.
Next step, onboarding
Once you have made your selection, ensure you onboard and induct your new employee properly. There are many digital tools available that can help make this process easier and Safe Ag Systems has templates available for; generating company Policies and Procedures; creating Inductions and keeping your Worker Records up to date (including contracts, health info and current training qualifications).
Now it's time to get ready for their first day on the farm, plan to show them around and introduce them to other workers. Make sure they have any company policies and procedures required for their role as well as uniform and/or PPE and anything else that is specific to their role. If you set your new employees up with all they need, you are setting them up for success in their role.
Set your business up for success
By following these few simple guidelines, you can increase your chances of finding the right fit for the role as well as your business. Every step you take in planning for and hiring a new employee is setting you, your business, and your new employee up for a successful first day and beyond.
Topics: Safety Management System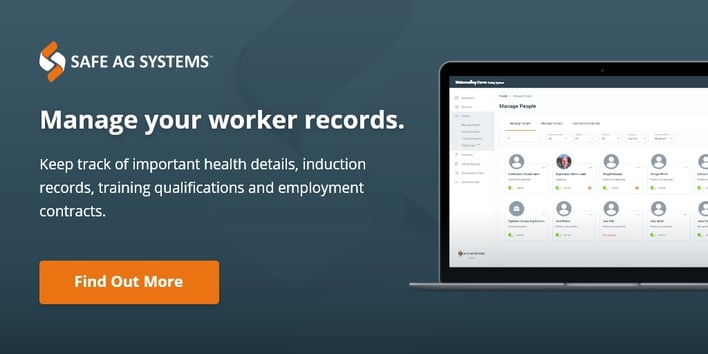 Disclaimer: Content on this website may be of relevance to users outside of Australia, but content links and examples are specific to Australia. Please check with your local authority for your country and industry requirements.
Originally published 12 December, 2022.