Most common causes of tractor injuries
Safe Work Australia data shows that between 2015 and 2019 there were 119 fatalities in agriculture directly involving vehicles. This equates to 68% of all fatalities in the industry with tractors the most common vehicle involved, accumulating 40 fatalities at 23% of the total followed by quad bikes at 14%. Over the five years, 12 fatalities were due to a rollover of non-road vehicles whilst 14 fatalities were caused by being trapped by moving machinery.
As one of the most common agricultural vehicles, tractors present a great risk to both the operator and bystanders.
A tractor is not a toy.
Along with the auger, tractors are one of the most dangerous pieces of farming equipment. Presenting more than a handful of hazards for farmers, it is the responsibility of both the employer and worker to reduce the risks and mitigate the chance for injury.
Below is a list of the most common causes for farm tractor injuries:
1. Tractor Rollovers
In 2013 Safe Work Australia conducted research into work-related injuries and fatalities on Australian farms and discovered that 43% of tractor fatalities were workers aged 65 and over. In addition to this, workers over 65 years old also accounted for half of the tractor rollover incidents.
Did you know there are two types of rollover that tractors are notorious for? The first is the sideways rollover, the second is the backflip. These types of rollovers tend to happen on raised surfaces and especially on narrow roads due to gravity. Since a tractor generally relies on centrifugal force balanced with its tipping axis, sideways rollovers often occur due to sharp turns or cornering. Backflips tend to happen when rear‐axle torque unbalances the tractor. This shift in balance can occur when the tractor wheels are unable to move forward, rapid acceleration or attempting to drive up a slope. These actions may prevent the axle rotation resulting in the tractor lifting its front wheels.
To discover why a tractor rollover can be fatal, all you need to do is Google. Discover the story of Gary Nichols a farmer and an amputee from Far North Queensland, Australia. Unfortunately, he became a victim of a tractor rollover and lost his right leg at the hip. In South Australia, a man was seriously injured when his tractor rolled on a private property and became trapped.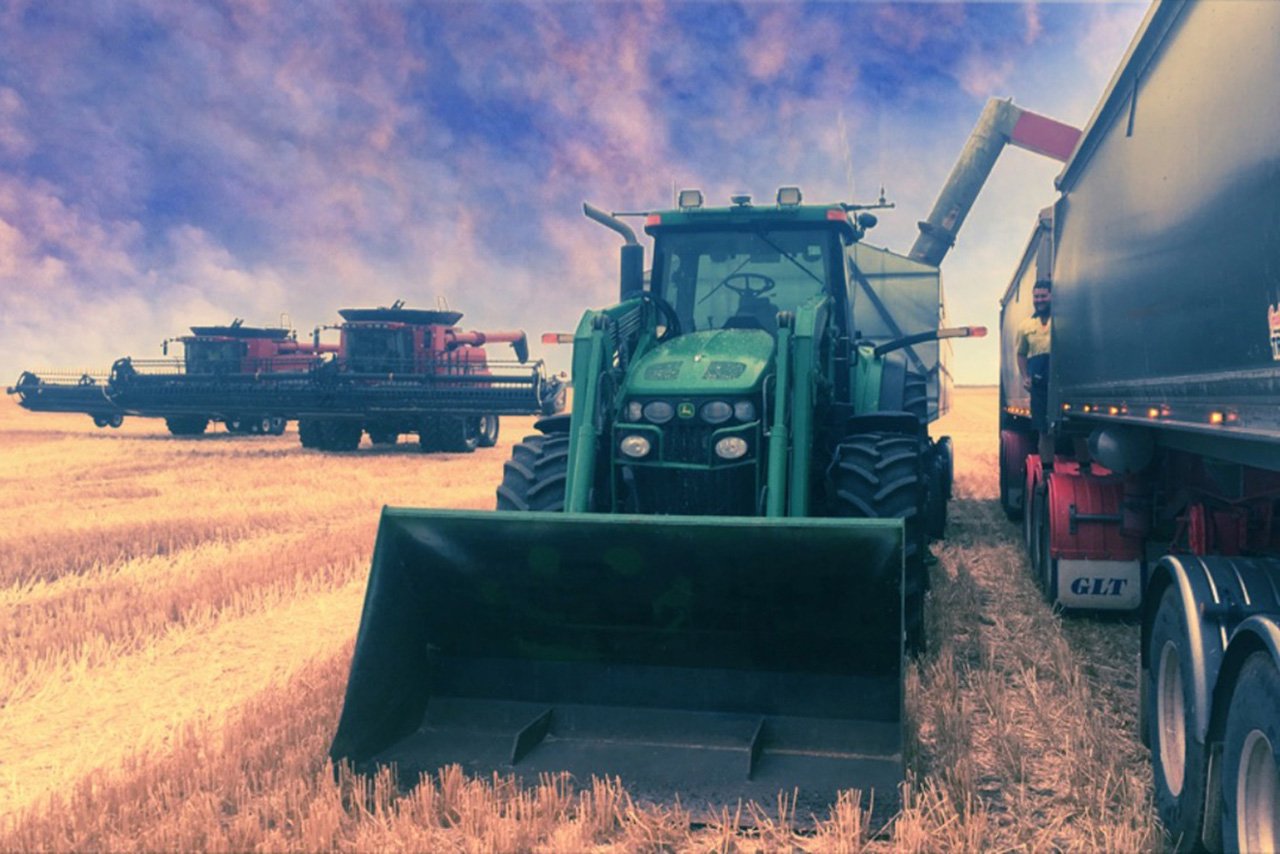 2. Tractor Runover
Over time tractor designs have evolved to meet safety standards, however, tractor runovers still occur. Due to the size and weight of tractors as well as their attachments, they can cause significant injury and even death. Runover incidents tend to occur when bystanders get too closer to the front or back of the machinery and the operator is unaware.
However, an operator can also find themselves in harms way due to an unfortunate trip or fall. Unsafe practices and fatigue causing lack of concentration also add to the risk of a runover, by trying to "save time" drivers may attempt to start the engine from outside the cab or try to jump off or on a vehicle whilst it is in gear.
In August 2020, a farmer in New Zealand suffered injuries to his hip, chest and abdomen after the tractor he was working on lurched forward on top of him. In Birmingham (UK), a 14 year old became a victim of a freak accident on the family farm in Worcestershire. After accidently knocking the gear stick when climbing off the tractor. He was dragged under the tractors trailer, "Henry was left lying injured and in agony while the tractor continued to roam the field. Terrifyingly, at one point it looked like it was heading straight back to run over him again."
3. Tractor PTO entanglement
The problem with tractor Power Take-Off (PTO) shafts is that when unguarded, loose items such as clothing, hair and jewellery can become entangled in the PTO. As a power source for attachments such as post-hole diggers, there are several ways to reduce the risk of amputation, disability, injury and death due to a PTO. In Western Australia, a farmer was fined $20,000 after one of their workers had their arm amputated by a grain roller mill driven by a PTO that was attached to a tractor.
In Galway, Ireland, a farmer was working on his tractor when he became entangled in the vehicles PTO shaft.
"My leg got wrapped up in the power shaft," he says. "It was gone before I knew it. I went to step back and it simply wasn't there. I never felt a thing. Maybe that sounds graphic, but you can't really sugar-coat it."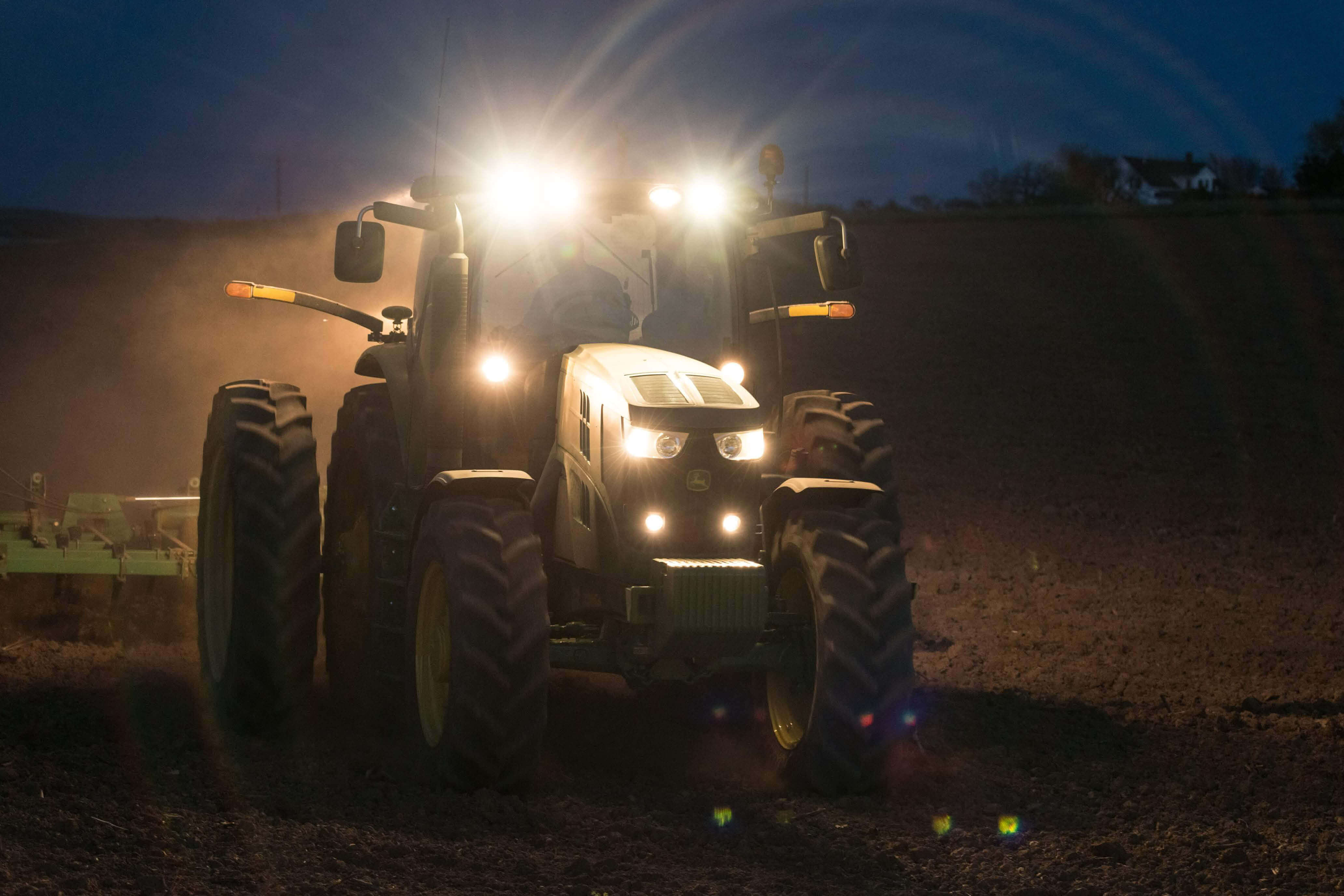 Risk Controls
Are you sitting there reading and thinking how can I safeguard myself and protect my workers from these kinds of tractor accidents and injuries? It all comes down to Risk Management, Safe Work Procedures (SWPs) and a little bit of Inventory Management.
Part of your risk management process involves implementing and evaluating risk controls. These controls should eliminate or reduce the risk of a particular hazard. Learn more about the importance of Risk Assessments in Farm Safety.
For example:
Does your tractor have a reversing alarm to notify bystanders?
Is your tractor fitted with a safety start switch so that it cannot be turned on outside of the cab?
Does your tractor have a 'dead man' switch attached to the seat which disengages operation when the driver leaves the seat?
Having SWPs as well as a thorough induction and training program can also help!
Safe Work Procedures
Safe Work Procedures contribute to your risk management strategies. The role of your SWP is to help reduce risks to the health and safety in the workplace. They are documents that detail how your worker can complete their task/job in safe manner. If you are having trouble generating your SWPs, Safe Ag Systems has designed over 150 templates to help you meet your work, health and safety requirements.
Your SWP should detail pre-operation safety checks. Does your tractor have suitable Roll Over Protection Structure (ROPS)? Have you checked the hydraulic hoses and fittings for leaks? Are entry and exit steps in good order with non slip surface and grab rails.
The second step of your SWP should cover operations such as driving at a speed slow enough to keep control over unexpected hazards or always watch for bystanders when operating plant.
The last step should entail ending operations and clean up. This would include removing any foreign materials from in and around engine attachment and tractor parts as well as allowing the plant to cool before performing any maintenance, refuelling or cleaning.
Don't forget to read our 5 tips for Tractor Safety and Tractor Operators.
Inventory Management
Inventory Management might seem odd when mentioned next to minimizing tractor injuries and accidents, but severe injuries can occur when machinery is not maintained, or a worker is unaware that a tractor may be faulty. With Safe Ag Systems, you can manage your inventory maintenance records whether you are in the office or the field.
Finally, according to the Australian Bureau of statistics, in June 2019 agricultural business had grown by 5% since 2018 reaching 89,400 farming related businesses operating in the country. This figure resulted in 384 million hectares of agricultural land, that's a lot of ground to cover! With the agribusiness sector growing, it is important to acknowledge tractor safety and continue driving awareness around hazards and injuries.
Topics: Machinery Maintenance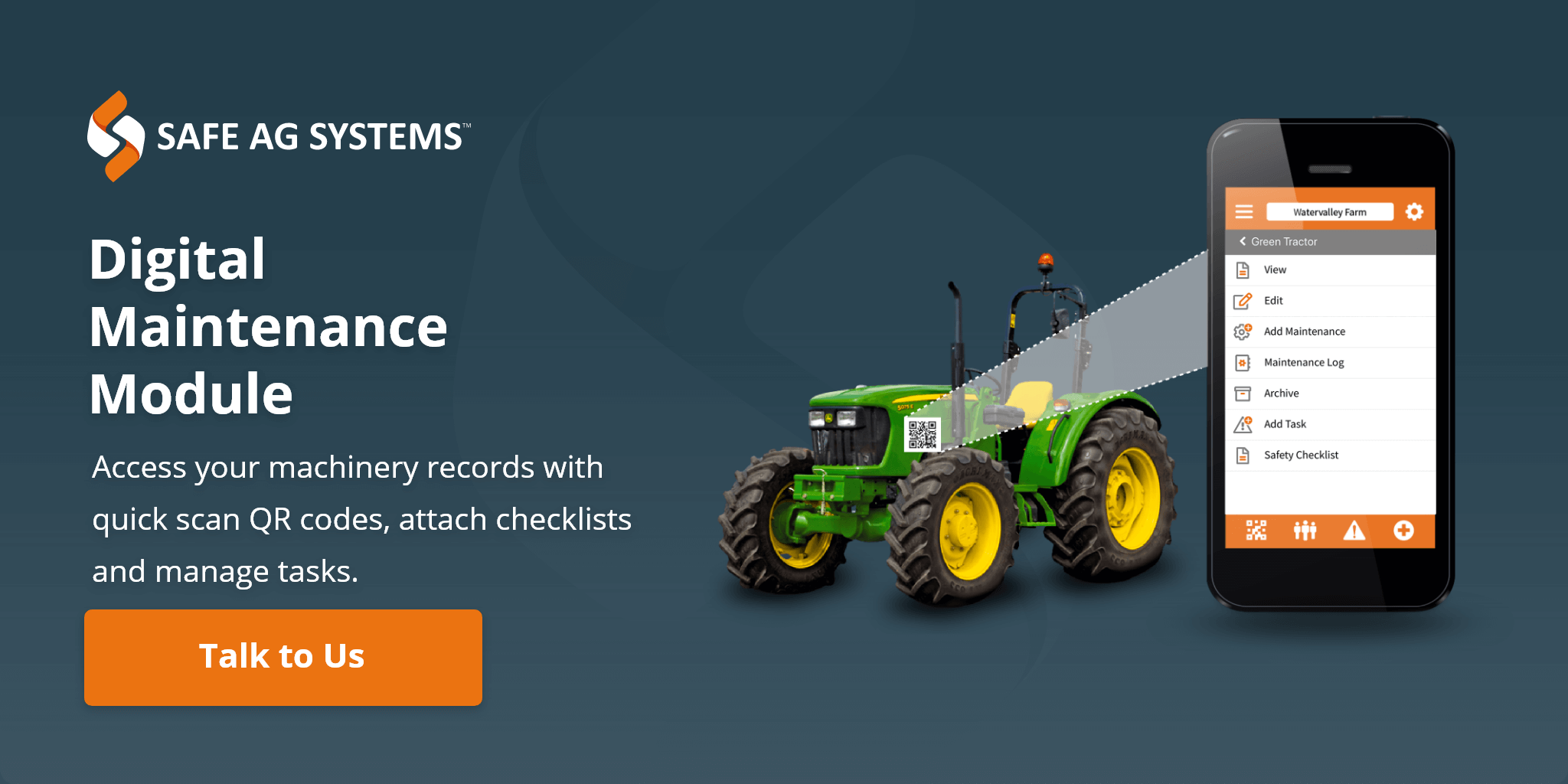 Disclaimer: Content on this website may be of relevance to users outside of Australia, but content links and examples are specific to Australia. Please check with your local authority for your country and industry requirements.
Originally published 09 October, 2021.