National Farm Safety and Health Week in the US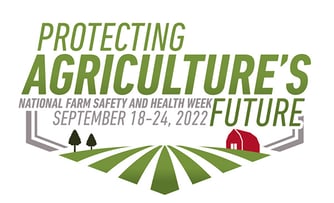 Farming is one of the most dangerous and hazardous industries in the United States. In 2020 there were 11,880 recorded injuries and 368 fatalities. This is a fatality rate of 18 deaths per 100,000 workers. According to the CDC, in 2020 there were approximately 2.1 million full-time workers employed in production agriculture throughout the United States, with approximately another 1.4 to 2.1 million hired as crop workers.
With so many Americans working as part of the agricultural industry, its easy to understand why a whole week is dedicated to injury prevention and farm safety education. The National Farm Safety and Health Week is held in the third week of September every year, just in time for fall harvest!
When is National Farm Safety and Health Week?
From September 18th to 24th 2022, farm safety advocates around the US will join forces to promote the theme, Protecting Agriculture's Future. This year's daily topics include:
Monday, September 19, 2022 - Tractor Safety & Rural Roadway Safety
Tuesday, September 20, 2022 - Overall Farmer Health
Wednesday, September 21, 2022 - Safety & Health for Youth in Agriculture
Thursday, September 22, 2022 - Confined Spaces
Friday, September 23, 2022 - Safety & Health for Women in Agriculture
History of National Farm Safety and Health Week 2022
Did you know that in 2020 agriculture, food and related industries contributed $1.055 trillion to the US gross domestic product (GDP) with $134.7 billion of that total sum being contributed by America's farms. With such a large contribution coming from farming, it should be no surprise that the National Safety Council has been advocating for National Farm Safety and Health Week since 1944. Proclaimed by every sitting President since Franklin D. Roosevelt, National Farm Safety and Health Week starts by keeping ag communities safe, healthy, and injury free!
More than industry statistics - How are we helping the industry?
The team at Safe Ag Systems are passionate about Farm Safety, we hear stories daily from local farmers. These daily conversations are how we learn about the unique challenges the industry is facing, its also how we develop an understanding of how we can make a change for the future of the industry.
Safe Ag Systems has been growing and developing along with the industry for over 7 years, our mission is to help and support that change. A simple change to a process, a documented policy or access to a procedure can help shift the way we think about what we do and, improve the decisions we make.
Our Ethos is to make change possible without having a significant impact on daily operations. Small decisions made on a daily basis contributes to sustaining and improving the agriculture industry – and everyone's part of the change.
How do you get involved?
The team at Safe Ag Systems are joining the conversation, promoting the importance of farm safety. Join us, US Ag Centers and Farm Safety advocates across social media channels as we share tips and free tools. Help promote one of the most important industries around the globe.
Facebook, Twitter, Instagram, LinkedIn
Don't forget the hashtags! #USAgCenters #NFSHW22 #NECASAG
Topics: National Farm Safety and Health Week
Disclaimer: Content on this website may be of relevance to users outside of Australia, but content links and examples are specific to Australia. Please check with your local authority for your country and industry requirements
Originally published 13 September, 2022.