The power of a Farm Audit
There are many types of Audits you may run as an agribusiness owner; they could be internal audits or external audits. They can all support your agribusiness in several ways and cover areas of operations including financial, performance, safety and compliance, payroll, and internal system audits.
Technology, SaaS or AgTech, has been assisting farming businesses tackle various jobs in the field and the office for years. We have seen vehicle control thanks to GPS, sensors, and mapping. We have witnessed crop and cattle management with the assistance of software… now it's time for the farm audit process to benefit from digital record keeping.
Audits don't just aid assurance schemes and certification bodies; they are a management tool for farmers.
What is an Audit in Agriculture?
Most agribusiness owners, managers, supervisors and workers would have participated in an audit of some variety, they are known for being time consuming, tedious and complex.
Audits are often viewed as a form of investigation, research or an inquiry, and for the majority of audits, they required an external, certified body to assure that the records or evidence provided are accurate and comply with a set of standards. To complete an audit, you'll require access to company resources including up-to-date records.
What is the purpose of an audit for farmers?
Many farmers may have a negative perception of audits – they're bad, they slow us down, there is nothing to gain from completing an audit – but that just isn't true. Audits assist with the compliance process, they are an opportunity to identify areas for improvement, allowing you to obtain finance easier, to grow your agricultural business and reduce costs. They allow your agribusiness to complete corrective actions prior to an incident, protecting your workers, possibly minimising manual efforts, and demonstrating corporate social responsibility.
Internal Audits
A safety inspection is a type of internal audit – you are utilising a tool to evaluate risks and identify actionable insights to improve performance. An audit is a planned inspection of your workplace, you will evaluate your internal control measures for effectiveness. You need to keep checking that what you've implemented is working as intended and be prepared to make changes. Internal audits are generally performed by workers within the organisation and then submitted to a manager or supervisor for review. As part of an External Audit, you may be required to complete and submit internal audits.
External Audits
External Audits are undertaken by a third party so that they can preserve independence, meaning the owners and stakeholders trust and have confidence in the report results. In order to provide an objective view, an external audit often relies upon the external auditor completing a report and submitting the final details to shareholders and owners. An example of a common external audit is a financial statement audit; all disclosing entities, public companies and large proprietary are required to complete these yearly in Australia.
Performance Audits
A performance audit is often utilised to assess your safety programs effectiveness, reviewing internal controls as well compliance with regulations and legislation. This type of audit may be performed by your state regulator (Safe Work, WorkSafe, etc.) and government agencies.
Compliance Audits
One of the most common types of auditing found in farming and the agricultural industry is the compliance audit. This type of audit reviews your agribusiness conformity with assurance schemes set of standards. Evidence and records for compliance audits vary with each set of standards your agribusiness is trying to achieve. No matter the circumstance, agribusinesses must be able to demonstrate their compliance, this is done by producing data from a management system including internal and external audit results.
Freshcare
If you are part of the Australian fresh produce industry, you may have of Freshcare. As Australia's largest fresh produce assurance program, Freshcare offers five assurance standards for the Australian fresh produce and wine grape industries.
When you are trained and are Freshcare certified it demonstrates that you understand the requirements of those standards. If you operate a fresh produce business, you are obliged to comply with the law, regulatory requirements and the Freshcare standards and rules. You should be aware that being compliant with Freshcare does not excuse your business from not complying with legislation.
Red Tractor
As the United Kingdom's (UK) largest food standards scheme, Red Tractor are the driving force behind UK food and drink standards. Focussed on British produce, farmers and consumer safety, Red Tractor farm assurance provides traceability ensuring food is safely produced and is responsibly sourced.
Recognised by consumers across the UK, Red Tractor estimates that around 50,000 British farmers are accredited and roughly 60,000 checks occur every year across the supply chain thanks to 450 independent inspectors.
As the Red Tractor logo clearly demonstrates to consumers that the food and drink, they are consuming was produced to a high standard across the entire supply chain, its important UK farmers understanding what is required to become certified, but also the benefit of that farm assurance.
GLOBALG.A.P.
GLOBALG.A.P. is the world's leading farm assurance program, providing more than 40 standards and programs for 3 scopes: Crops, Livestock, and Aquaculture. Currently, there are 159 accredited certification bodies to perform independent third-party producer audits with more than 2,000 trained inspectors and auditors.
With more than 700 certified products and over 200,000 certified producers in more than 135 countries, GLOBALG.A.P. is a harmonised program that demonstrate your commitment to advancing good agricultural practices to your retailers and buyers.
Safe Ag Systems powerful auditing tool; AgAuditor
Safe Ag Systems Audit Builder is farm audit software compatible with a range of standards, certifications, and accreditations. With AgAuditor, make your data work for you.
Manage the entire audit process with ease, remove the lengthy paperwork with linked documents and access your real-time data to identify areas of non-compliance. Assign tasks and approve corrective actions prior to an auditor arriving on farm. Reduce the expenses of auditing and optimise reporting with a tool that is fit for purpose, book your AgAuditor demo today.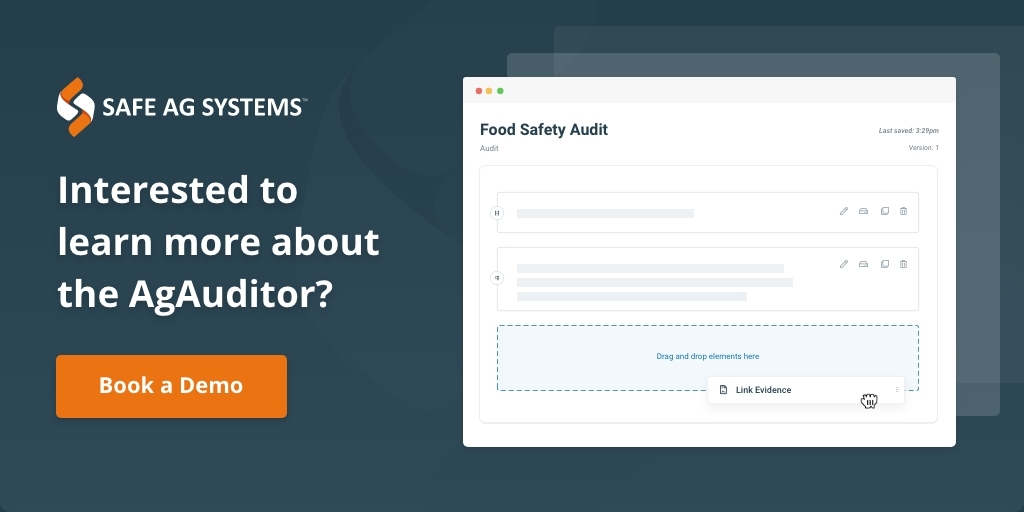 Disclaimer: Content on this website may be of relevance to users outside of Australia, but content links and examples are specific to Australia. Please check with your local authority for your country and industry requirements.
Originally published 01 July, 2022.