Where would the United States be without farmers?
Have you ever stopped to think, "where would we be without farmers?", they are the people that feed and clothe the world. Life would be pretty hard without them, but its scary to think some consumers don't know how that cereal they consume every morning is grown or even have a thought about the person that grew it, yes a person, a farmer. I'm not talking about knowing it was Benjamin from Montana, but acknowledging the hard work, hazardous tasks and often uncertain conditions our U.S. farmers and ranchers face daily to produce the goods we consume without a second thought.
Did you know that in one year a U.S. farm feeds 166 people, not just in the U.S., but globally? This contribution is thanks to the 2 million farms scattered across America's rural landscape, with 98% of those farms operated by families (individuals, family partnerships or family corporations) according to the American Farm Bureau Federation.
How are United States Farmers making a difference?
In 2021, 895 million acres of land in the U.S. was used for farming purposes, with 445 acres representing the average farm size. Corn and soybeans accounted for half of all crops produced, with cattle and calves representing the highest proportion of animal products.
Technology, or AgTech, has supported the development of the agricultural industry over the years, helping farmers and ranchers tackle various jobs in the fields and the office. With innovation driving production from labour and cattle management through to equipment, machinery, crop genetics and chemical usage, we shouldn't be surprised that output for U.S. farmers and ranchers has tripled since 1948.
In 2020 agriculture, food and related industries contributed $1.055 trillion to the U.S. gross domestic product (GDP) with $134.7 billion of that total sum being contributed by America's farms. In 2022, the U.S. Department of Agriculture estimates that the Gross Cash Farm Income (GCFI) will reach $577 billion, compared to $341 billion in 2002, the highest level recorded.
We're sure you're sick of hearing about it, but have you thought about the impacts of COVID19 not just on supply chains, but the rural communities and U.S. farmers themselves? Not only were farmers and ranchers already facing hardship where production outpaced demand, food prices were on the rise, but production prices declined. Add to this shutdowns/lockdowns, the price of fuel increasing, lack of workers and isolation. Farmers, ranchers and their families felt the burden swiftly. The general public were facing possible food shortages whilst our farmers were dealing with euthanizing livestock, dumping milk, and disposing of perishable produce.

The Future of agriculture in the United States
It is estimate that by 2050 the world demand for food will increase by 60-70%, with a global population growth of 2.2 billion meaning farmers and ranchers will be required to produce more. Did you know that 25% of all farmers are beginning farmers which means they have been in business less than 10 years, with an average age is 46?
When it comes to the future of the industry and sustainability, Farmers and Ranchers are at the forefront, facing uncertainty in a rapidly changing world. Drastically affected by climate change (think floods, tornadoes, fires and droughts), these catastrophic events are estimated to have caused over $560 billion in damages between 2010 - 2019.
On a positive note, farmers and ranchers are actually on the frontline when it comes to conservation. The U.S. Farmers and Ranchers Alliance note that a, "full 15% of U.S. farmland is dedicated to conservation, the equivalent of California and New York combined." Whilst the American Farm Bureau Federation attribute careful stewardship to a decline of 34% in erosion of cropland by wind and water since 1982.
"Agriculture is an effective and transformative solution to address our changing climate. Nothing is more powerful than a plant in soil when it comes to removing carbon from our atmosphere." - U.S. Farmers and Ranchers Alliance
The state of the industry when it comes to safety and health
According to the CDC, in 2020 there were approximately 2.1 million full-time workers employed in production agriculture throughout the United States, with approximately another 1.4 to 2.1 million hired as crop workers. In that same year, 11,880 injuries were recorded and 368 fatalities. Producing a fatality rate of 18 deaths per 100,000 workers. It was noted that the leading cause of death was due to transportation incidents including tractor turnovers.

Importance of safety in agriculture
Ranked as one of the most dangerous professions not just in the United States, but globally, the well-being of farmers, rancher and agricultural workers is the backbone of the economy. When you incorporate safe operating guides, policies, maintaining your machinery and equipment as part of your everyday routine, safety becomes a by-product. It doesn't have to impact your daily operations, in fact it can improve them. Ensuring your employees are properly trained can lead to less serious injuries as well as avoid a fatal accident.
National Farm Safety and Health Week 2022
With so many Americans working as part of the agricultural industry, its easy to understand why a whole week is dedicated to injury prevention and farm safety education. The National Farm Safety and Health Week is held in the third week of September every year, just in time for fall harvest!
From September 18th to 24th 2022, farm safety advocates around the U.S. will join forces to promote the theme, Protecting Agriculture's Future. This year's daily topics include:
Monday, September 19, 2022 - Tractor Safety & Rural Roadway Safety

Tuesday, September 20, 2022 - Overall Farmer Health

Wednesday, September 21, 2022 - Safety & Health for Youth in Agriculture

Thursday, September 22, 2022 - Confined Spaces

Friday, September 23, 2022 - Safety & Health for Women in Agriculture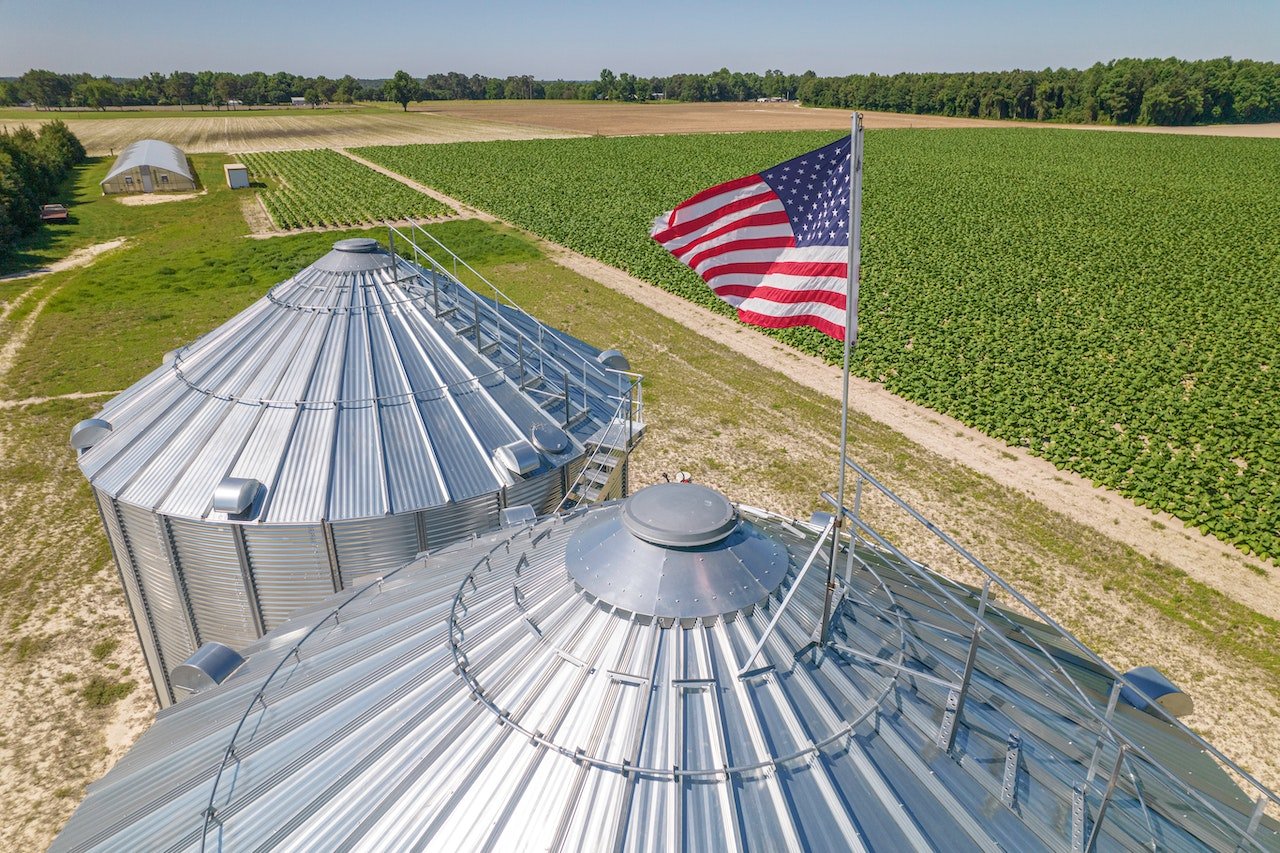 How are Safe Ag Systems helping the industry?
The team at Safe Ag Systems are passionate about Farm Safety, we hear stories daily from local farmers. These daily conversations are how we learn about the unique challenges the industry is facing, its also how we develop an understanding of how we can make a change for the future of the industry.
Safe Ag Systems has been growing and developing along with the industry for over 7 years, our mission is to help and support that change. A simple change to a process, a documented policy or access to a procedure can help shift the way we think about what we do and, improve the decisions we make.
Our Ethos is to make change possible without having a significant impact on daily operations. Small decisions made on a daily basis contributes to sustaining and improving the agriculture industry – and everyone's part of the change.
Topics: National Farm Safety and Health Week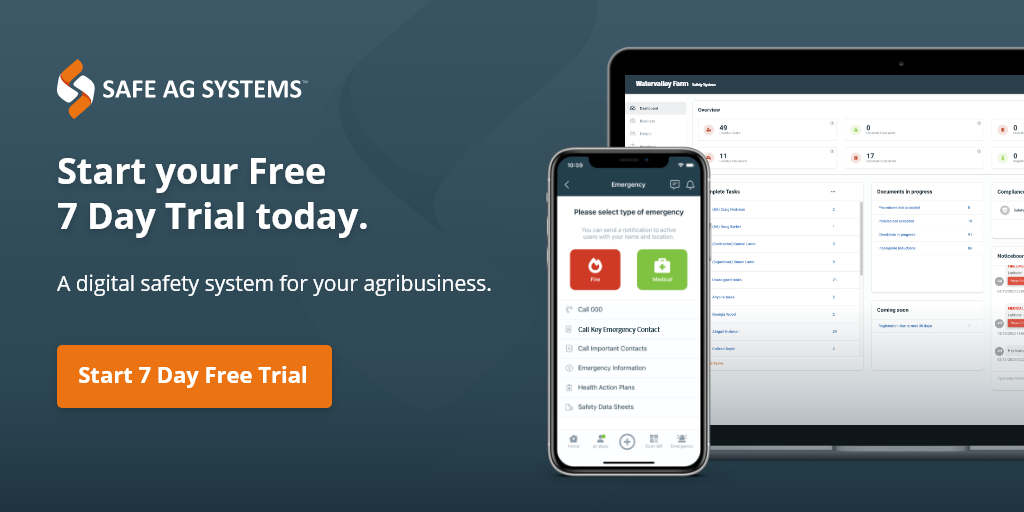 Disclaimer: Content on this website may be of relevance to users outside of United States, but content links and examples are specific to the U.S. Please check with your local authority for your country and industry requirements.
Originally published 16 September, 2022.