How to induct seasonal and casual workers
Seasonal and casual workers, as well as extended family members can often join the ranks of farm staff to help with the increased workload during peak times such as harvest and seeding. It's important they know your site policies and procedures. A simple way to streamline this process is to create seasonal safety induction kits to train short-term workers during these peak times.
Seasonal work is often only available at specific times of the year. You will often find seasonal workers rely on transient conditions such as fruit picking in the summer or harvest, often peak periods to meet demand. Often these roles involve transferable and valuable skill sets, but you shouldn't just assume these seasonal workers know everything.
Agricultural and horticultural work may require mechanical picking, preparing soil, planting, weeding or pruning. This involves numerous hazards such as chemicals, machinery and other equipment.
To tailor the safety induction kits to suit your seasonal workers, consider the season and tasks they will be undertaking. For example, it is essential they know an emergency response and first aid kit locations, but not as important to be inducted for chemical use or machinery they may not use.
Consider covering the following:
Farm safety awareness
Location of known hazards, such as overhead power lines, dams, chemicals storage etc.
Machinery safety
Safe lifting
First aid
Contact lists
How to report hazards and incidents
While these seasonal workers are coming in at a busy time of year or for a specific task, their seasonal safety induction should be approached with the same time commitment as a long-term worker. Even if your new workers may have been performing similar roles on other farms or have worked on your farm in the past, ensure they understand the current health and safety policies on your property and have an understanding of their WHS/OHS/ Health and Safety requirements.
Do not assume anything! Check and double-check your short-term workers have understood the policies and guidelines and know where safety equipment is. If they are overseas workers, make sure they understand what you expect of them. If they can't speak English all that well, think about creating a short video showing them how to do the task safely. Or use signs and pictures to explain safety. If something goes wrong, the penalties are not just financial - you are responsible for your workers' lives!
A practical safety induction at the time of starting seasonal work can create a positive relationship with your workers. Your concern for their health, safety and wellbeing is important, as is conveying to the worker that they play an important role in their own farm safety and that of their co-workers.
Topics: Safety Management System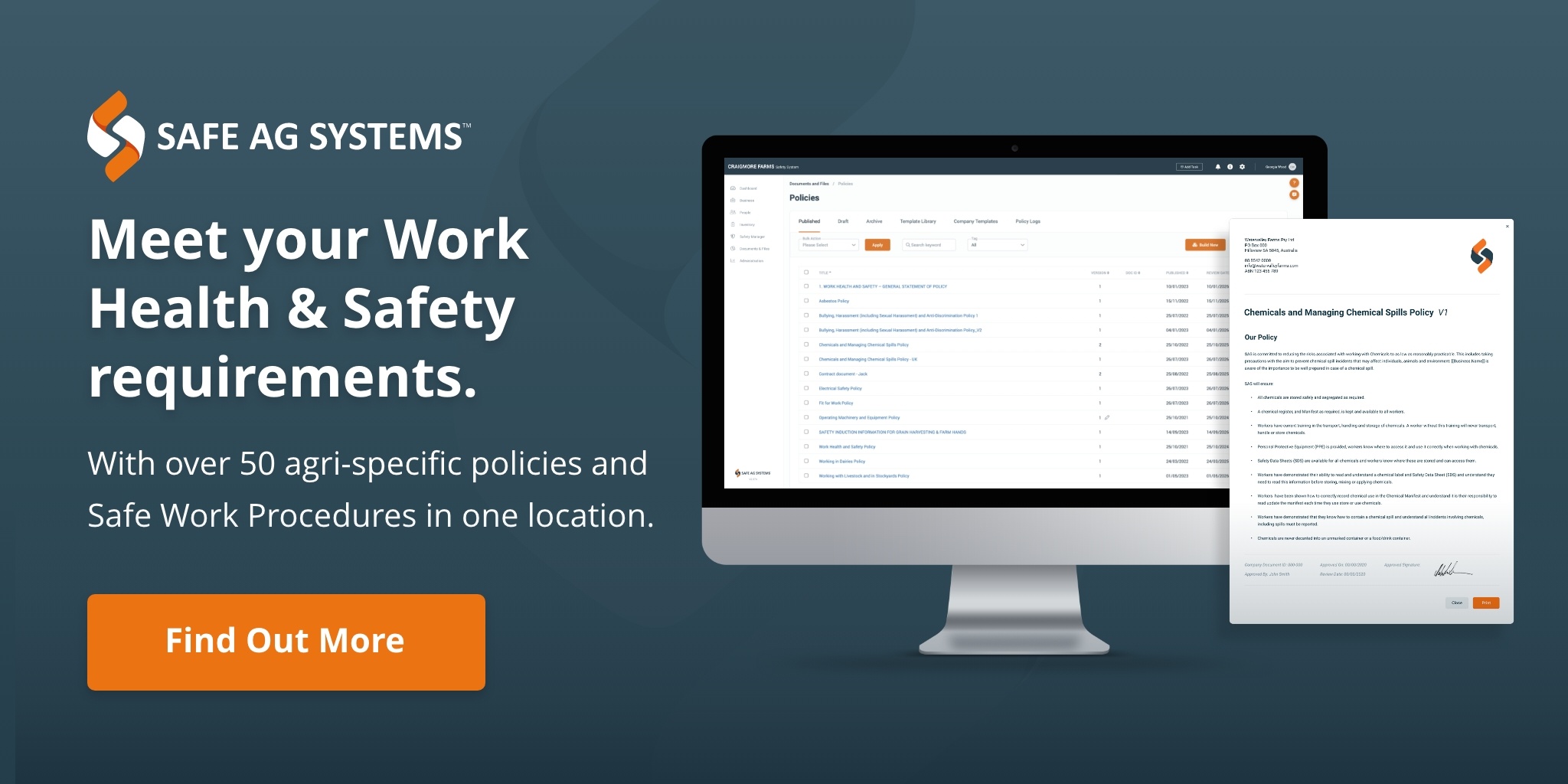 Disclaimer: Content on this website may be of relevance to users outside of Australia, but content links and examples are specific to Australia. Please check with your local authority for your country and industry requirements.
Originally published 08 December, 2021.